← Back
Plus Points - Any Amount $1.00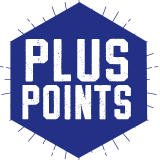 Add the amount you need!
Use at any of our dining locations!
Plus Points purchased online will take up to one business day to manually upload onto the intended person's Carroll Card. We offer a 10% bonus on Plus Points purchases of $100 or more. The 10% bonus will not be reflected in your online purchase. It will be manually added up to one business day after a $100+ purchase has been made.